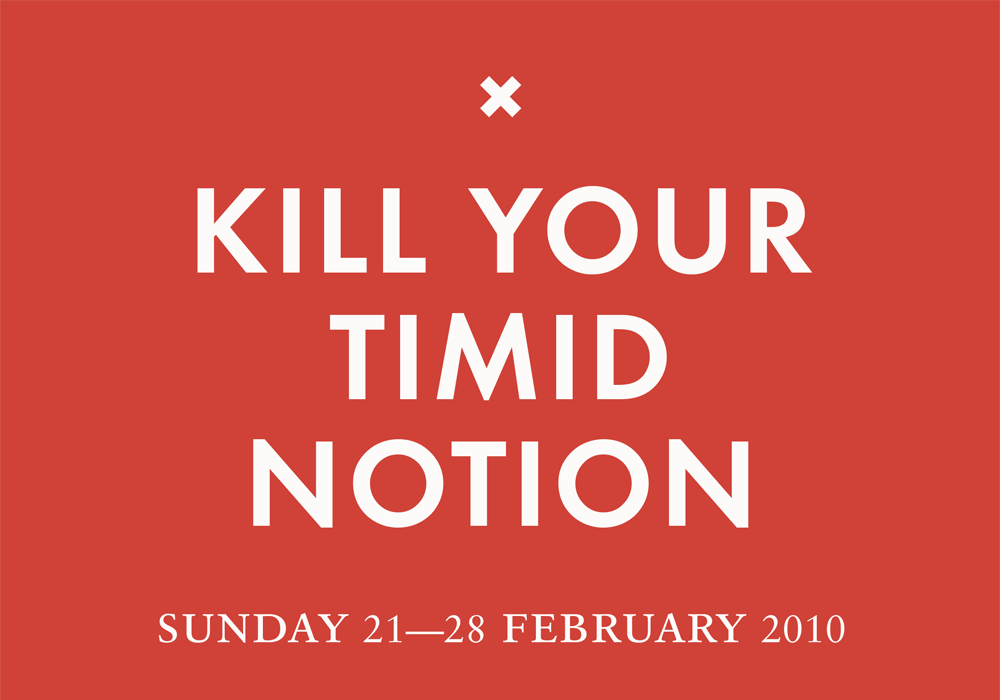 Kill Your Timid Notion 10
Our last KYTN festival was a mixture of investigation groups, live performances, screenings and installations at DCA. The festival looked to strip music, sound, film and moving image back to their core ideas and explore them with artists and audiences. "One thing my films tend to do is examine a property or quality of a film in a radical way. Being radical is a modest form of being extreme. They each examine an axiom of cinema¹ and say, 'What if?'" Taking a cue from this quote from Morgan Fisher, the last KYTN festival brought together open-ended proposals for image, sound and dialogue to be explored through investigations, performances and talks.
Read
What we said at the time:
We have little to no idea as to how KYTN will go this year, and that's deliberate. We don't want to know, we want to find out. Instead of knowing in advance what is going to happen, we want to ask people (artists, you, ourselves…) to make some simple proposals that we can then all investigate and see what we can produce, together. We humbly submit KYTN as an attempt to (or a have a stab at it at least): do what Morgan says above, strip back music & sound, film & moving image to their core, think about how they might be refocused and used to say something about the world we live in now, test afresh and for ourselves the implications of the radical concepts these art forms are built upon.
So maybe art isn't some object or performance or film or whatever that you look at: it's the process that produced it. And so…
From Mon 21 – Fri 26 Feb we'll be hosting a bunch of different 'Investigation Groups' that we'd like you to, well, investigate.
We want you to get involved in the processes used by the artists at KYTN this year, and maybe help develop those processes together. In fact, some of the artists might need your help in delivering their performance at the weekend.
We don't just want you to come along and watch stuff, but if you can¹, we'd like you to come along and do stuff too. KYTN is a chance to get involved in the making and doing, undertaking and changing of experimental forms of music and film. The more you do, the more we'll all (you, we and the artists we invite to Dundee) get out of it.
How well it goes will be up to you as much as it is up to us. So we'd like you to be involved.
1. An axiom is an apparently self-evident statement: a kind of starting point or truth, from which other systems can be derived and things worked out.
2. Radical concepts (axioms) which now have whole traditional systems derived from them (what is music and what isn't, how audiences should respond to things and how they shouldn't, how a film should be constructed, what the purpose of art should be….). But every system is derived by people (with specific interests) and so rests upon a whole bunch of assumptions (political, ethical, aesthetic…). Maybe you don't agree with those assumptions? Maybe they're holding us back? Maybe it might be interesting to address ourselves to those (pre-everybody-else's-assumption) axioms again: today, here and now, together and draw our own conclusions…
KYTN 10 was featured by Sight and Sound which includes an interview with Morgan Fisher, written by Melissa Gronlund here. It was also previewed by Andrew Eaton for Scotland on Sunday here; Rosalie Doubal for the List here and Gareth K Vile for the Skinny here.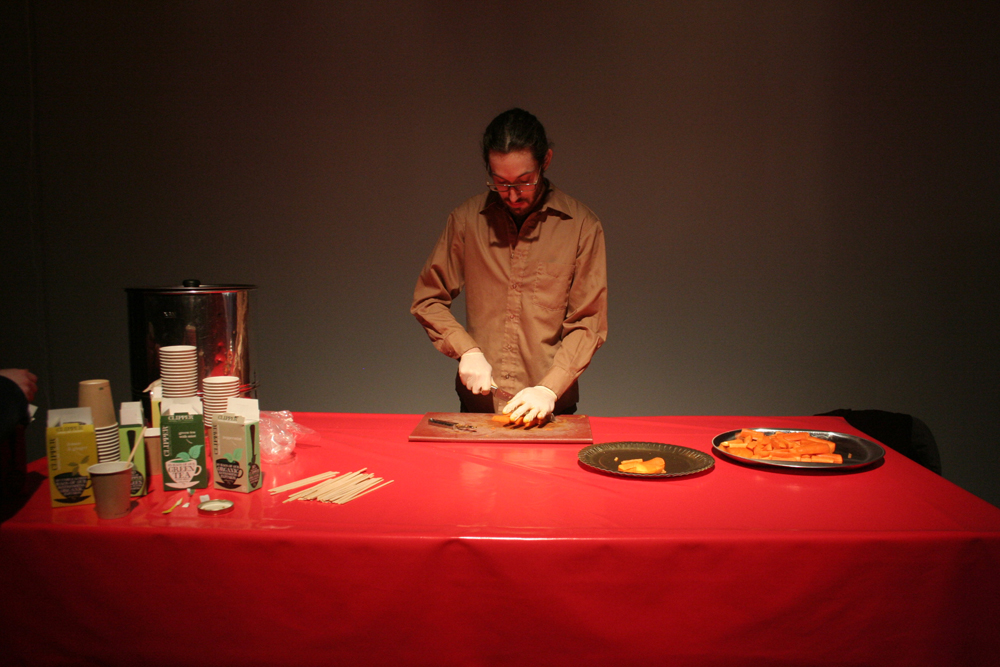 Christof Migone
Jarrod Fowler
Jarrod Fowler and Christof Migone kick things off with performances involving edible plants, a saw, dandruff, and Christof responding to the prompt: "as far as you can for as long as you can."
Kill Your Timid Notion 10