I wanna be with you everywhere 2023
I wanna be with you everywhere is an everywhere gathering envisioned for and by disability communities and anyone who wants to get with us.
With Panteha Abareshi, Amelia Bande, JJJJJerome Ellis, Cyrée Jarelle Johnson, Yo-Yo Lin 林友友, and Leah Lakshmi Piepzna-Samarasinha
Organized by Arika, Amalle Dublon, Jerron Herman, Carolyn Lazard, Park McArthur, Alice Sheppard and Constantina Zavitsanos
I wanna be with you everywhere returns to Performance Space and any space on June 21 for an outdoor pop-up and hybridized event.
This summer solstice gathering will be held in Performance Space's courtyard as well as on Zoom so you can join from home, the beach, in bed, amid your local bbq, in transit, in the hospital, and anywhere elsewhere. Watch parties welcome. Zoom is open boxes not webinar with breakout rooms for chat and quiet space; courtyard events will be livestreamed to the Zoom and Zoom events will be livestreamed into the courtyard too.  I wanna be with you everywhere is an ongoing and accessible celebration of nonlocality.
Our purpose is specifically social and our only goal is getting together, conjuring, celebrating, resting, and reveling in our means beyond ends. We're only here to celebrate that we're still here and to hold space for those of us that now join from other forms. We come from traditions of healing and need in and beyond any need to be healed, made whole, or cured; we come incomplete and holographic, welcoming wounds, healers, wisdom, and fools anywhere on the bodymind-spirit soul continuum in k/crip, chronic, incurable, incalculable, and quarantined, mad love.
Part of Performance Space's Healing Series, I wanna be with you everywhere draws on a multitude of personal practices and associations with healing while underscoring a rejection of classist Western colonial mandates of health and wellness that assume an originary state of health to which people should return or move toward—and that delineate who is and isn't already here, who can and can't come in, and what we can do together. Crucially, I wanna be with you everywhere puts into practice a belief in care as love rather than control.
I wanna be with you everywhere first emerged through collaborations rooted in access intimacy, hospitality, and conviviality in 2019 at Performance Space New York, as a festival organized and unfolding in "crip time." While that festival centered physical togetherness as rare and important, the 2023 edition commences at a time when considerations of crip nonlocality, deepened by the pandemic, have necessarily opened new, more accessible visions of what togetherness can be. We must make this. Together. People not policy. No one left behind.
There won't really be an end as this is actually just the beginning again, second round around, encore before—in continual rehearsal.
Read
About the Organizers
Arika are a political arts organization led by Bryony McIntyre and Barry Esson, based in Scotland, UK, who organize live spaces that seek to explore the inseparable, intertwined nature of aesthetics and social life. They see their role in this unfolding relationship as celebrating and supporting connections between art and social change. When they say art, they mean the ways we sing and dance together, the ways we listen and want to be heard, how we look and hope to be seen, how we think of our bodies and how we move through space, how we feel and want to be felt. Since 2001, Arika has staged over 40 major projects with some of the leading arts institutions in the UK. Internationally, Arika participated in the 2012 Whitney Biennial, and has since collaborated regularly on projects in New York with members of the Arbert Santana Freedom and Free School from within the House|Ballroom community, and sex worker-led groups in the city, with partners including: MoMA PS1, Performance Space New York, The New School, Artists Space and Union Theological Seminary amongst others. In 2020, Arika were awarded a Turner Prize Bursary, that year's pandemic-affected version of the Turner Prize, one of the most prestigious art prizes globally.
Amalle Dublon's writing has appeared in Art in America, GLQ: A Journal of Lesbian and Gay Studies, Artpapers, and TDR: The Drama Review, among other publications. Their artwork, made collaboratively with friends and loved ones, has been exhibited at Artists Space (New York), Museum MMK für Moderne Kunst (Frankfurt), ARGOS Arts (Brussels), and Dazibao (Montreal). Amalle has a PhD in Literature from Duke University, and teaches at the New School.
Jerron Herman is a dancer and writer who is compelled to create images of freedom. Premiere venues include The Whitney Museum, Abrons Arts Center, Performance Space New York, Creative Time, and The Kennedy Center/REACH. Jerron has served on the Board of Trustees at Dance/USA since 2017, most recently as Vice Chair. As a curator, Jerron facilitated the series Access Check 2.0: Mapping Accessibility for the Shelley & Donald Rubin Foundation. In 2021 he developed a speaking series for the Joyce Theater called Discourse: Disabled Artists at the Joyce, bringing together NYC-based disabled artists to showcase their work across three distinct conversations. Jerron has been published in the US and internationally and his play, 3 Bodies, appears in Theater Magazine's May/June 2022 issue. Jerron has modeled for Nike, Tommy Hilfiger, Chromat, and FFORA campaigns. Awards include a 2020 Grants to Artist Award from The Foundation for Contemporary Art, a 2020 Disability Futures Fellowship, and the Jerome Hill Artist Award in 2021. Jerron was the Artist/Scholar in Residence at Georgetown and holds a degree from The King's College (NYC)
Carolyn Lazard is an artist and writer based in New York and Philadelphia. Recent solo exhibitions include The Walker Art Center and Kunstverein Braunschweig. Their work was included in the 2022 Venice Biennale and the 2019 Whitney Biennial. Lazard holds a BA from Bard College and an MFA from the University of Pennsylvania.
Park McArthur experiments with personal and social meanings of debility, delay, and dependency under the guidance and instruction of disability. McArthur teaches at Rutgers University's Mason Gross School of the Arts. Most recent solo exhibitions include Kunsthalle Bern and Essex Street, both 2020.
Alice Sheppard is an internationally recognized dancer, choreographer, and founder of the disability arts ensemble Kinetic Light. She studied ballet and modern dance with Kitty Lunn and started her career performing with Infinity Dance Theater and AXIS Dance Company. In 2016, Alice founded Kinetic Light, a disability arts ensemble featuring herself, Jerron Herman, Laurel Lawson and Michael Maag. Working in the disciplines of art, technology, design, and dance, Kinetic Light creates, performs, and teaches at the nexus of access, queerness, disability, dance, and race. In the company's work, intersectional disability is an aesthetic, a culture, and an essential element of artistry. In addition to solo performance and commissioned choreography, Sheppard is a consultant and speaker who has lectured on topics related to disability arts, race, design, and dance. Her writing has appeared in The New York Times, academic journals, and the anthology Disability Visibility, edited by Alice Wong.  She is delighted to have been recognized with a Bessie and as United States Artists, Creative Capital grantee, AXIS Choreo Lab, and Disability Futures Fellow.
Constantina Zavitsanos works in medium based time.
Performance Space New York
Over the last 40 years Performance Space has been propelling cultural, theoretical, and political discourse forward. Futurity and world-building connect the interdisciplinary works presented here—works that have dissolved the borders of performance art, dance, theater, music, visual art, poetry and prose, ritual, night life, food, film, and technology, shattering artistic and social norms alike. Founded in 1980, Performance Space New York (formerly Performance Space 122) became a haven for many queer and radical voices shut out by a repressive, monocultural mainstream and conservative government whose neglect exacerbated the emerging AIDS epidemic's devastation. Carrying forward the multitudinous visions of these artists who wielded the political momentum of self-expression amidst the intensifying American culture wars, Performance Space is one of the birthplaces of contemporary performance as it is known today. As the New York performing arts world has become increasingly institutionalized, and the shortcomings within our industry were further revealed during the ravages and transformations of 2020, our focus has been not just on presenting boundary-breaking work but on restructuring our own organization towards prioritizing equity and access. We seek to build deeper relationships with our artists and communities by creating new access points. Through community programs, annual town halls, guest-curated programs such as Octopus and First Mondays, we welcome the public to actively shape our future and help us hold ourselves accountable. Programs like the revived Open Movement and the new Open Room invite the community in and reclaim the institution as a rare indoor public space in the ever-more expensive East Village.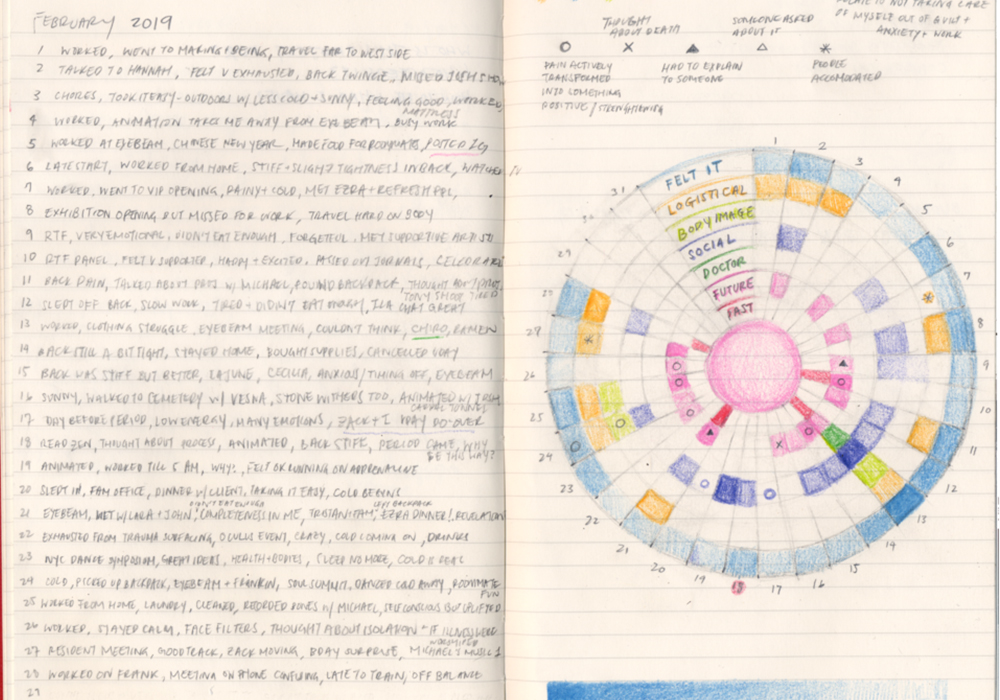 Yo-Yo Lin 林友友
Coming to us from Taipei, Yo-Yo sends us elsewhere while bringing us back with her to the timezone of tomorrow. A dancer, media artist, and choreographer who makes multi-dimensions and realms, Lin's amplification of energies and connections across bodies devolves the separations we are taught to abide.
I wanna be with you everywhere 2023
Visitor Info
Attending & Tickets
Both in-person and online attendance is free with RSVP. Please RSVP here.
Access
Detailed access information for in-person and online attendance is available here and on Performance Space's General Access page. Access provided at the event includes Audio and Image Description, ASL interpretation, Live CART Captioning, Quiet spaces, Hang out space and more…
Venue
Performance Space New York is located at 150 First Avenue at the corner of 9th Street in Manhattan. The courtyard is step-free with a gridded flooring overlaying gravel. A large canopy will provide shade and cover in the event of rain, with multiple seating options available. Animals are welcome.
Audience Travel Fund
Getting around New York City is expensive. For local accessible transport in the form of a Lyft/Uber voucher or reimbursement please fill out this form.
Food
Food will be onsite at Performance Space with gluten free and vegetarian options.
Bathrooms
ADA all gender bathrooms are located inside Performance Space on the 4th and 5th floors. These uncaptioned videos show the 4th floor and the 5th floor bathrooms.
Covid Protocol
This is a primarily outdoor and online event, with an outdoor stage and projection screen and indoor spaces including bathrooms and a low-stim room. Many people will be wearing masks. Some of us can't wear masks, and for others of us masks make communicating impossible. If you can maintain distance while communicating and hanging out, please do. If you can wear a mask please do. "Smile" see-through masks will be available onsite. Please stay home and rest if you're experiencing Covid-related symptoms. Please attend online with us.
Getting to Performance Space
Subway
Click each train stop to view a video route to Performance Space New York.
L train to 1st Avenue
6 train to Astor Place
F train to 2nd Avenue
R/W trains to 8 Street Station
4/5/6/N/Q/R trains to Union Square  – wheelchair accessible
6/B/D/F/M trains to Bleeker/Broadway-Lafayette Street – wheelchair accessible
Bus Stops
M8– St Marks Place/ 1st Avenue, East 9th Street/1st Avenue
M14a– Avenue A/ East 9th Street
M15– 1st Avenue/ St. Marks Place
Access-A-Ride
Note: If you are new to Access-A-Ride, it may take up to 21 days to process your application. Please plan accordingly.
Parking
Limited street parking is available close to Performance Space New York. Please read street signs carefully. Meter rates are posted on each parking meter, typically $4 for the first hour, and $10.75 for 2-hour increments.
The closest parking garage to Performance Space New York can be found at 310 East 11th Street between First and Second Avenues, 0.2 miles from PSNY. Please call (212) 475-5262 to inquire about their rates if you are interested.
Weather Contingency
In the event of rain, no ceremonial fire will take place.
Air Quality Contingency
In the event of outdoor Air Quality Index (AQI) numbers projected to reach or exceed 100, this event will be rescheduled or moved to an improvised Zoom room. This event is planned as a hybridized event where our camera crews send multiple angles to Zoom from the Courtyard and our Access Teams are coordinated in and across both spaces. We cannot simply move it all to Zoom in the same ways nor will we move it all inside. No one left behind. We will update all ticket holders on or before June 20th.
Credits
Thanks to all the Staff at Performance Space including Jenny Schlenzka, Pati Hertling, Constanza Armes-Cruz, Ana Sepulveda and Andy Sowers
Production Credits
Lighting Design: Sarai Frazier, Video Engineer: Matthew Deinhart, Audio Engineer: Brendan Aanes, Zoom Audio Engineer: Travis Wright, Zoom Production: Lauren Parrish and Patrick Mahaney, Stage Manager: Erin Gray, General Technician: Camilo Ramirez, Scenic Design and Courtyard Renovation: Andy Sowers
Front of House Staff
Amelia Atteberry, KC Athol, Ana Cristina, Portia Lipscomb, Ampersand Paris, Aniya Picou, Jackie Spaventa, Kimiko Tanabe
Install Crew
Juan Jaramillo, Morgan Johnson, Emily Larochelle, Noah Mourra, Sergey Sutt, Adrienne Swan, Joey Truman
Supported by:

Access – Gathering Intention
This occasion is first and foremost a space for gathering across multiple realms–virtual and in person.
Performances and moments orchestrated through aesthetic encounters will occur throughout the day. That said, the time in between, alongside, before, and after the artworks, poems, and music shared are the true spirit and intent of this day. As much as we love everyone who is performing, we love the fact that everyone will also, hopefully, be hanging out, too. Throughout the day people will be arriving and leaving, coming and going, and moving between the courtyard and Performance Space's interior.
We hope that the access infrastructure we have planned will be able to hold the different comings and goings we know of, as well as those we have no way of knowing will occur. We don't separate access from life, life from access or access from fun. We know it won't all go perfectly and that access interference may occur. When it does, we hope we'll move through this together. We know that human is tech and tech is human and that both experience interruptions. We know that improvisation is our condition.
With all of these realities as our intentions we've organized the following access presences and infrastructures:
Access URL / Virtually
Livestream connectivity between in person and online attendance via Zoom.
Zoom breakout rooms, including a quiet-only breakout room.
Live CART captioning.
Online ASL interpretation for performances and breakout rooms.
Access doulas providing audio and image description.
Access IRL / In-person
Livestream connectivity between in person and online attendance via Zoom.
In person ASL interpretation for performances as well as informal conversation among attendees.
Access doulas providing audio and image description.
Quiet rooms and quiet-er rooms will be open both inside Performance Space as well as outdoors in an area adjoining the courtyard.
Wayfinding signage provided onsite.
A large canopy will provide shade and cover in the event of rain with multiple seating spaces and seating options available, including seating with vibrational transducer frequency tactile input.
Access - Overview
This event is primarily outdoors and online. There is an outdoor stage, projection screen, and multiple seating options, including seating with vibrational tactile input. Inside Performance Space, there are ADA all gender bathrooms on the 4th and 5th floors and a Low Stim room, also on the 4th floor. Sign Language, audio description, and image description are present both virtually and in person.
Many people will be wearing masks. Some of us can't wear masks, and for others of us masks make communicating impossible. If you can maintain distance while communicating and hanging out, please do. If you can wear a mask please do. "Smile" see-through masks are available. To request a "smile" mask or for any access inquiries in general, please find a Performance Space Staff Member wearing a nametag or lanyard. For online access inquiries, please approach an Access Doula or Online Host.
Need more distance or a quiet-er space? Join the quiet-only breakout room on Zoom or visit the Low Stim room on the 4th floor of Performance Space. In Performance Space's Courtyard follow the signs to an adjoining studio for a little bit more distance from the sound and performances.
As this event comes to a close and as the sun sets on the longest day of the year, Performance Space's courtyard will center D/deaf social space, with conversational interpreters available for those who do not speak ASL. We ask that the sound volume in the courtyard be kept low during this time and that we prepare to leave the courtyard by 10 pm.
Additional Access and Support Info
If you or a friend require a particular form of support or translation not listed here or in the event descriptions, we would love to connect. Email us at boxoffice@PerformanceSpaceNewYork.org. Advance notice is appreciated and requests made by June 9 will have the best chance of being met.
Audience Travel Fund
Getting around New York City is expensive. For local accessible transport in the form of a Lyft/Uber voucher or reimbursement please fill out this form.
Access Credits and Thanks
None of it is possible without IWBWYE's Access Coordinator Madison Zalopany and the care, commitment, and imagination of all of the access workers, consultants, and friends in bringing this occasion into being. Thank you. We'd also like to deeply thank Dickie Hearts for Access Consultation. Special shout out to Alexis Fagan for elaborating the Low Stim room with artworks and more. Shout out to Finnegan Shannon and Carolyn Lazard for providing seating that are both artworks and access. Thank you Constantine for the haptic touches on the already extant seating too. And thank you Chancey Fleet and the Andrew Heiskell Braille and Talking Book Library staff for assisting with Braille program printing.