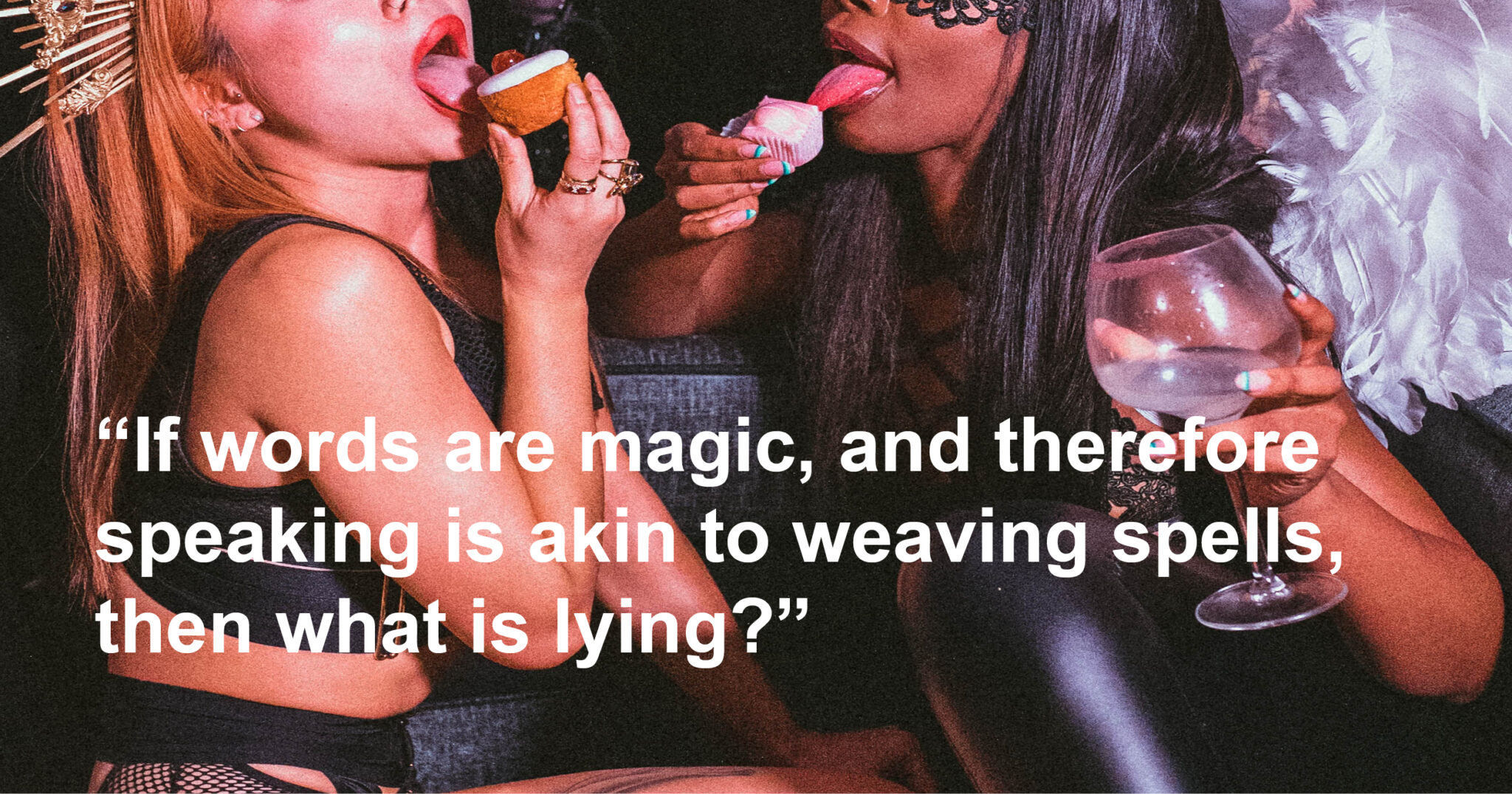 Book Launch: Truth and Lies (London)
Book Launch: Truth and Lies (London)
Hosted by Sex Workers Union, National Ugly Mugs and Arika
Welcome all to an evening extravaganza celebrating the London launch of Truth & Lies: an Anthology of Writing and Art by Sex Workers
Expect slutty DJs, playful performances, stripper poles, rococo cakes, union broads and intimate readings…
Then party in the name of sex worker liberation!
Book FREE tickets here
Join the LIVE STREAM on 25th Nov 7:30-9:15pm here
Event Programme
Doors open @ 7.15pm
7.30pm – 11pm
Curtains reveal – speakers from the Sex Workers Union & National Ugly Mugs.
Our MC Venus introduces our fierce readers for the night – anthology contributors:
Marin Scarlett
Lib Lobberson
ZuZu Gabrielli
Followed by a sparkle of:
Maedb Joy
Black Venus 
Chao-Ying Betty Rao
Then buy books, chat and hit the dance floor with DJ bogan.bitch
Bar (payment required) provided by Conway Hall.
Books will be available to purchase on the night (£15 per copy all proceeds raised going to NUMbrella Lane) or online via AK Press (UK)
About the Book
Truth and Lies: An Anthology of Writing and Art by Sex Workers emerges as part of a rising tide of sex worker art and organised struggle to end criminalisation and stigmatisation of sex work. The book, published in 2022, features work by 13 artists with lived experience of sex work. Following a public callout, the final pieces were selected by a panel of sex workers and the book produced by Numbrella Lane, National Ugly Mugs and Arika.
Read
Artist Bios
Marin Scarlett Marin Scarlett is a writer, artist and activist. She is the Campaign and Communications Officer with the European Sex Workers' Rights Alliance and an Outreach Worker with the sex worker support project at Spectra London. She has previously worked with violence prevention charity National Ugly Mugs and sex worker wellbeing project Umbrella Lane. Marin lives in London under the rule of a feline despot named Amber
X/Twitter: @marinscarlett_
Lib Lobberson – a basic bogan bitch, Australia born and raised but Glasgow settled. She has spent the last 10 years divided between her great loves: sex work, art, music and pints. She originally migrated to Scotland for a degree and stayed for love but when that didn't work out, became deeply immersed in the thriving art and music community. She project-managed various exhibitions and began work in music promotion and management, all funded by the fruits of her pussy. Her work explores the highs and lows of womens' experiences and aims to demystify the world of sex work. She has previously published work in sex worker zines and has a piece in the Glasgow Women's Library.
ZuZu Gabrielli, I'm a 33-year-old Canadian sex worker currently residing in Europe. I've been in the industry for over six years and it is my main form of income. I am vocal about sex worker's rights, but seek to uplift a realistic, non-glamorized vision of the job. Sex work has given me a lot, and it has taken away. Writing is a passion of mine and I hope to eventually complete a book of my experiences. My submission is a fragment of this, with some differing elements. Thank you for compiling this work.
Maedb Joy is a poet, writer and theatre maker making work about sex work, class and womanhood. Alumni of Guildhall School of Music and Drama and the Royal Court Playwriting group, her credits include: BBC, Bishopsgate Institute, VAULT Festival, Camden's People Theatre and more.
She is also the founder and artistic director of Sexquisite Events, and co-founder of Riot Party. Both events are committed to creating paid creative opportunities for sex workers and impacting meaningful change through art and entertainment.
Black Venus is a sex worker, martial artist, writer and performer whose work explores themes of power, subversion, deviance and feminism. She is founder of Sex and Rage, a sex worker and activist organisation resisting stigma and shame through sex education.
Chao-Ying Betty Rao evolved as a teenage runaway and a high school dropout who started modelling and stripping as a way to keep afloat. Now she is an interdisciplinary artist whose previous experiences in the sex industry heavily influence her practice. Chao-Ying graduated from her BA(Hons) in 2020 from the Glasgow School of Art, in Painting and Printmaking. She holds an MA(Hons) in Philosophy and English Literature from the University of Edinburgh, and campaigns with local organisations for the full decriminalisation of sex work.
Project Partners
The Sex Workers Union
The Sex Workers Union fights to improve working conditions, protect rights, and end discrimination.The Sex Workers Union (SWU) is a branch of sex workers in the UK, organising with BAFWU for better working conditions and fighting to change the industry from within. .SWU works with sex workers across the UK to improve conditions through collective negotiation and individual casework. Our union provides members with legal assistance, healthcare services, and training opportunities to improve their working conditions and advance their careers. We also strive to create a sense of community and solidarity among sex workers, so that they can support one another and work together towards a common goal. We organise to establish 'worker' status, which will enable those working in clubs to claim basic rights at work, such as annual leave, sick pay, a guaranteed basic wage and the right to organise and be represented by a trade union. The sex workers unionisation campaign is organised in partnership with x:talk, a sex workers support project and in conjunction with Decrim Now, the campaign for the full decriminalisation of all sex work.
National Ugly Mugs
National Ugly Mugs (NUM) is a UK-wide survivor support charity aiming to end all forms of violence against sex workers. They provide a reporting and alerting system, checker tools, specialist casework support, mental health support, financial support and support for sex workers wishing to leave or change their financial reliance on sex work. They take a rights-based and justice-orientated approach to their work, which places the needs and lived experiences of sex workers at its core.
NUMbrella Lane
NUMbrella Lane is NUM's in-person wellbeing centre in Glasgow, providing a community space for sex workers in Scotland. The venue hosts regular drop ins, wellbeing events, group outings, a food pantry, a library, and health and harm reduction supplies. It is a welcoming, friendly space where sex workers can connect with one another, share resources and support each other in a respectful, understanding and affirming environment.