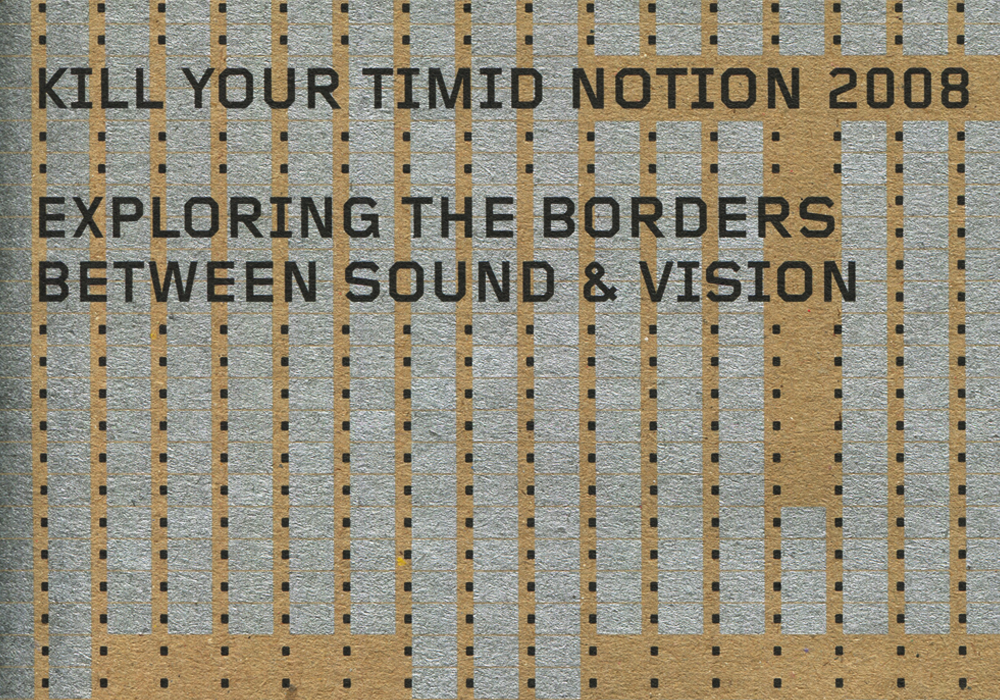 Kill Your Timid Notion 08
Exploring the borders between sound and vision.
The fifth edition of our KYTN festival with DCA: about what you see, what you hear and exploring art that combines both of these senses in interesting ways. The basis of each KYTN festival is film; a point of orientation from which we aim to expand outwards to engage with things seen, heard, felt and encountered; using film to explore different cuts along the psycho-sensorial continuum. At one level a kind of synaesthetic sound image, at opposite extremes we present hearing and seeing totally stripped of association.
Read
"There are no complex ideas, only long series of simple ideas" – Hollis Frampton
"A thing is a whole in a thing, is it not?" – Carl Andre
We'd like to give you an impression of the thinking behind Kill Your Timid Notion: to let you know that it's not just thrown together, that it's about something you may indeed find interesting, that it could be vibrant/ relevant/ exciting to you, that it will be fun to experience/ attend/ tell your mates about afterwards/ maybe even think about in a few weeks time in a quiet moment over a cup of tea; whilst also not putting you off by talking too much. Everything at the festival is in some way about what you see and what you hear and about trying to think of art that combines both of these senses in interesting ways.
If you're still with us, and don't mind a bit of maths then great. So let's just dive straight in then shall we by starting with mathematician Richard Dedekind who in 1872 developed a way of defining real (e.g. 1,2,3,4,5 etc) numbers as a 'series of cuts of rational (e.g. 1/2) numbers'.
Two good quotes here, flesh things out…
"A number is represented as the partition of a line segment. A real number 'N' can then be the highest value to the left of the cut or the lowest value to the right of it. An irrational number can even be assigned to the cut itself, which is empty, in the sense that the cut a pair of scissors makes across a piece of paper is empty, but present and evident. By extension one might say that any single perception is a cut across the spectrum of stimuli available to us. The cut itself then is not perceived; it is an operation, not a quantity." – Carl Andre (The great American minimalist sculptor and poet: super lucid on ideas of 'cut' sculptures and sculpture as 'place'. You all know his Equivalent VIII: "The Bricks" that caused such a furore at the Tate.)
"The intellect, then, is a purely practical faculty, which has evolved for the purposes of action. What it does is to take the ceaseless, living flow of which the universe is composed and to make cuts across it, inserting artificial stops or gaps in what is really a continuous and indivisible process. The effect of these stops or gaps is to produce the impression of a world of apparently solid objects. These have no existence as separate objects in reality; they are, as it were, the design or pattern which our intellects have impressed on reality to serve our purposes." – Cyril E M Joad (Popular philosopher and wartime radio personality who, no kidding, lost fame and fortune in the Train Ticket Scandal of 1948!)
Some of you may worry that this sounds very much like phenomenology, which is only one way in which we interact with the world. You'd be right. The world is, after all perceived, conceived and lived. I'm just focusing on the perceived bit as a way of explaining an impetus for KYTN. We can chat about the conceived / lived aspects later in the pub. So anyway, it is the tacit suggestion of KYTN that art, since the Renaissance and right up to today, has been compartmentalised and labours under the hegemony of the visual (Christoph Cox can fill you in on this at his talk on Saturday) ; artforms have been classified and segregated (like Renaissance class based society itself) and then based on the premise that vision is the overriding, primary sense. Don't you think today this seems very old fashioned, almost quaint? (Think about the way even the basic ideas of physics or mass transportation, sanitation or dentistry have totally changed compared to the developments in some of the arts.)
This visual hegemony need not be the case. The cut of perception that Carl Andre talks about is, above all, a cut across all stimuli. We all know this is true experientially. We perceive the world around us via all our senses in union. Smell recalls memory. Our stereo hearing helps our eyes to re-focus on specific events in our peripheral vision, that vision then provides the context to interpret (or indeed misinterpret) audition. The chemical and mechanical way we register stimuli combine via the intellect to form consciousness. Our lives are conceived, perceived and lived across all our senses, and as such we can expect to be differently rewarded by good art that treats these phenomena together. And it just so happens that one of the only places in modern society that is purpose built for the stimulation of just two of our senses (audition and vision) is the cinema. And actually, reading C E M Joad's quote above, doesn't he sound like he's sketching out a metaphor for photography, and for film: 24 cuts per second producing the verisimilitude of motion, of life.
So film often seems a good place for us to start with KYTN, from which we hope to expand out and to engage with things seen, heard, felt and encountered; to think of them as different cuts along the psycho-sensorial continuum – in the middle we find sound-image together, at either end hearing or seeing stripped of connections totally. We've not got round to smell yet, but there's always next year.
KYTN 08 was reviewed by Andrew Eaton for the Scotsman here; Leon McDermott for the Metro here; and Neil Cooper for List here.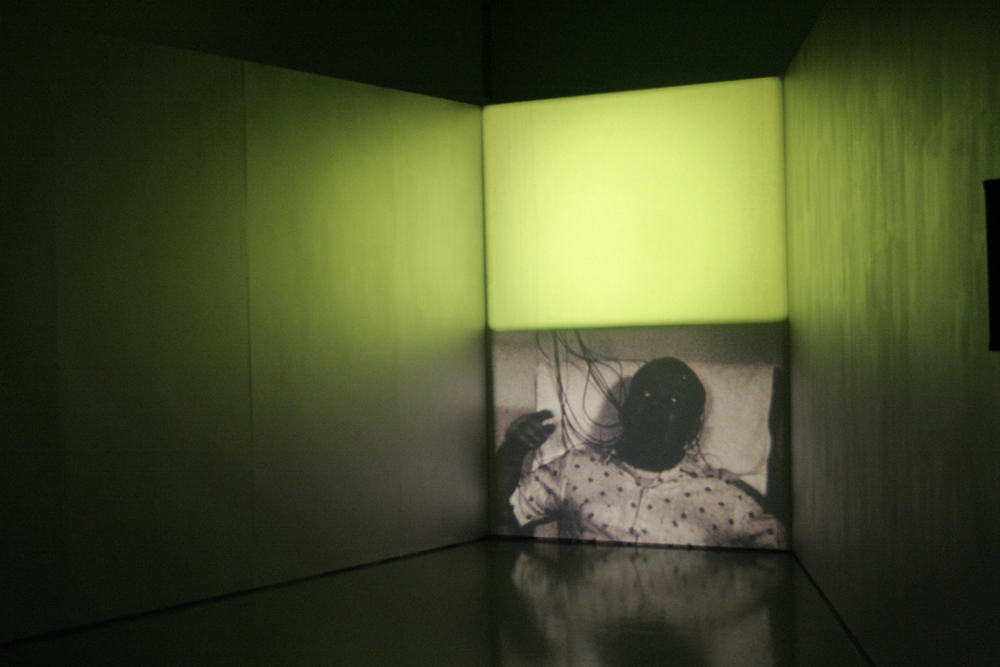 19 September – 12 October 2008
Paul Sharits
Paul Sharits one of the great experimental, sometimes called structuralist / materialist, filmmakers of the 20th Century.
Kill Your Timid Notion 08